Artisound at Alexandra Park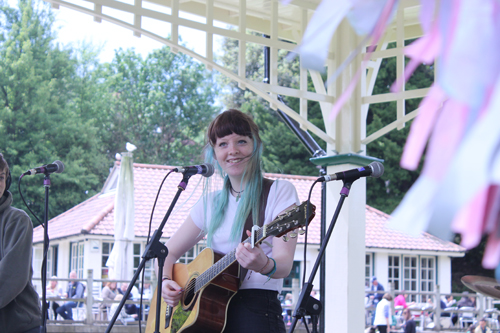 On Saturday 13th June, students from Rye Studio School Year 13 Music, Performing and Production Arts staged their final event called Artisound at Alexandra Park, Hastings. Planning and preparations for the event have been in process since the beginning of this academic year and this Saturday saw the outcome of all the students' hard work. The intention of the project was to give young people the opportunity to perform in a public location, and to showcase the possibilities and benefits that a creative arts education holds.
The day began a little overcast and windy, and all students were highly anxious as to the reception they would get from the public. Needless to say, all the students performed exceptionally well and the public response to the day was fantastic. The music, dance and drama performances were supported with a community graphics project, spray painting and textiles activities, alongside drumming and ukulele workshops. Dance workshops were provided by TTA Dance Company. Photography and Creative Media students were capturing the event to make a film for the school You Tube channel.
Other community members offered support with Councillor Warren Davies, (Lead Member Hastings Borough Council for Environment and Community Safety) saying "Thanks to the artists, musicians and dancers of the Rye Studio School for such exciting and professional performances in Alexandra Park. Also to Orbit Housing Association for providing the gazebos. Come back and entertain us some more!"
Principal, Jo Townshend said "Students are preparing for the world of work in the Creative Industries by linking their arts subjects with business enterprise. Today is a great example of showcasing their work to the local community".
Rye Studio School is having a taster day on 30th June if you would like to try some workshops.