Make up Masterclass with Victoria Gugenheim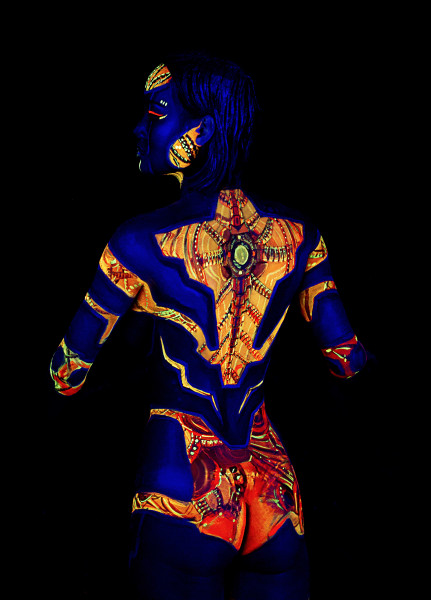 26 May 2017
It's not every day that you get the opportunity to learn from a make-up artist who has not only appeared in a Hollywood blockbuster, but who has also created the make-up for it. But that's what happened on Friday 19th May when Victoria Gugenheim, make-up artist for Guardians of the Galaxy and Maleficent, rocked up at Rye Studio to conduct a special effects master class that covered everything from third degree burns to recreating the alien that she played in Guardians.
With her pink and yellow hair, angular pink eyebrows and 6 inch platform boots, Victoria, who has won a multitude of accolades for her body painting, is definitely not your 'regular' make-up artist. Taking just over 40 minutes to unpack her extensive kit of latex, face paint, brushes, sponges and make-up palettes, students were invited to take a close look at all her special effects essentials before she began the workshop with a demo on how to create a realistic third degree burn.
Year 12 student, Kayleigh Carmichael, was Victoria's 'model' for this part of the workshop, during which she demonstrated how layers of latex could be applied, painted with a variety of colours, from coral to dark red and black, then 'distressed' with tweezers to mimic a burn. Working alongside Victoria, all the students had the opportunity to create a burn in small groups, a requirement for their BTEC qualification.

In the second part of the workshop - a tutorial for the make-up used to create Victoria's alien character from Guardians of the Galaxy, Victoria demonstrated advanced techniques for applying the perfect make-up base, which in this case consisted of a vibrant metallic yellow. Year 12 student, Jasmine Oskay, Victoria's model for this session, was transformed into an alien, complete with painted rivets created with a 'dopping' sponge.
A question and answer session rounded up the intensive 4 hour master class. A huge thanks goes out to Victoria, her models and all the Production Arts Make-Up students, for supporting this event. We look forward to welcoming this Hollywood make-up artist back for more insider tips, tricks and techniques.
For more on Victoria's work, go to www.victoriagugenheim.com.