Renown Bus Service 312 Important Announcement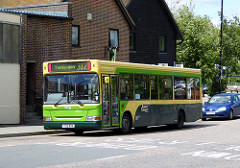 24 August 2017
You may be aware that a stretch of the B2082 between Playden and Iden is to be closed for a number of weeks. Originally this was due to be from the start of next week with works finished by the time term resumed. However, we understand that agreement was subsequently reached which has led to a recent change of dates to ensure that the Iden village fete can take place before works begin. This means that there will now be an overlap between the works and the start of the new school term. The permit for works runs until 8 September so Southern Water must clear the site by the end of that day.
Service 312 buses will have to divert via Houghton Green and Grove Lane for the duration of the works.
As far as any of our young people using the service are concerned, the section of the B2082 between Grove Lane, Iden, and the Peace and Plenty at Playden cannot be served. At Playden, the bus stops are just south of the Peace and Plenty so this should not cause any particular difficulty for any young people using the 312 from there. However, at Iden, the main stops are both south of Grove Lane – the southbound one almost immediately south of Grove Lane (used by Rye school pupils in the mornings) and the northbound one (used by Rye school pupils in the afternoon) adjacent to the entrance to Elmsmead. These stops will be amongst those that cannot be served during the closure.
At Iden, bus operator Renown has stated that they will put in a temporary stop near the entrance to Grove Lane, Iden, close to the War Memorial, to take the place of the southbound one just south of the junction. Obviously pupils travelling from Iden to Rye can use this in the mornings. For travel back to Iden in the afternoon, there is already a stop on the northern edge of the village, just beyond the junction with Church Lane, which can be used by pupils who would normally alight at Elmsmead in addition to pupils who would normally use that stop.
Renown have confirmed that they will not be making any adjustments to the timetable as such although there may be some late running if they get held up on the diversion route.